7. Teach Them Well
Parents you are your child's first teacher and role model when it comes to water safety. Teach your child water safety for safe play and fun at the pool, beach, river and lake.
Teach them well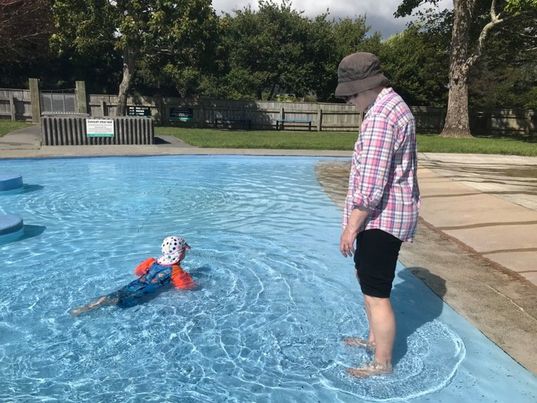 Water Safety New Zealand and Plunket encourage all parents and caregivers to introduce their children to water in a positive, caring manner. Sharing bath time and visiting your local pool are positive steps to developing water confidence and safety skills in your child.
Adapt your water experiences for your child to suit their age and experience.
What age should I take my child to a public pool?
There are recommendations that children over six months old can attend a public pool and undertake water safety lessons.
By that time:
Their immune systems have developed enough to protect them from the bugs that can be present in the pool water
They will have enough head control to enable them to keep their head out of the water
Their body temperature control system will be better developed to cope with the changes in temperature from undressing and getting wet. The temperature in this pool should be comfortable for babies and
Their ears will be better able to deal with water if it gets in.
What should I teach my child from six months?
Between the ages of six months and 18 months, your child will make progress towards learning how to survive in the water and they should learn the basics.
These pool visits should not be about learning swimming skills, but about letting them enjoy the water and have fun. It is crucial that your child does not learn negative behaviours at this time as this can imprint on them for the rest of their lives.
What do I do for the next age group?
Between 18 months and three years, you will be able to teach your child some simple water safety rules and skills.
What can I teach my toddler?
From three years onwards, your child can start to learn some swimming skills. Keep in mind though that this does not prevent your child from drowning.
I'm not sure I can teach my child how to swim?
Most public pools hold swimming lessons for young children. Click here to find your local pool.
Visit the swim school before your child starts lessons, meet the teacher, and discuss any issues, such as experience and qualifications. Ideally there should be a shallow pool for babies and toddlers to learn in. It should also be warmer than the larger pool.
Like any learning experience, children should be encouraged to learn at the own pace. Allow them time to experience the water and gain confidence in one skill before progressing to another.
Swimming clothing
Swim nappies
Special swimming nappies don't hold the water like traditional ones which become incredibly heavy when worn in water and can weigh your child down.
Swim nappies are designed to be tight around legs and absorb the mess without swelling and becoming water-logged, so your child can happily play unhindered.
Made with stretchy material they are comfortable for your child to wear and come with tabs that can easily let you change your child quickly when the water session ends.
Leading brands come in small (seven to 12kg); medium (11 to 15kgs) and large (14kg plus) sizes. They cost around $2.00 a pair and come in packs of 12 usually. They can be purchased individually from the supermarket or from your local pool.
Baby wetsuits
Even the warmest of pools can feel cold for young babies which has led many companies to produce baby wetsuits.
Made of light weight neoprene, some even come with a soft lining inside to protect sensitive skin. They can come in sizes 0 to three months, three to six months, six to 12 months and 12 to 24 months.
They come as a full body suit to just tops or leggings and are ideal to protect your child from UV rays as well.
They are also protective of sensitive skins and used over barrier or eczema creams to prevent them from rinsing off once in water.